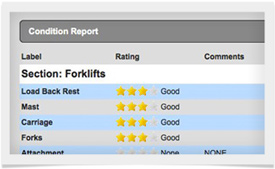 Heavy equipment isn't cheap. It's a serious investment. The more you know about what you're buying, the better.
That's why TuffWerx includes condition reports that cover everything from the seat to the axles of the front end loader or used excavator you have an eye on. Sellers or professional inspection companies rate the condition of many aspects of the heavy equipment for sale with estimated repair costs. Then they post that inspection along with the pictures, videos and description. We save you hours of work and give you the security of a seller-provided disclosure form to cover any issues the equipment might have.
TuffWerx makes buying equipment easier than it's ever been.